Writing for Wellness in Christian Settings
Submitted by: Admin
20 July 2010
2,720 views
No Comment
Kathy Vader's book, Writing for Wellness in Christian Settings, is now available for free through Smashwords.
Written as a addition to Writing for Wellness, this easy-to-follow guide will help ministers, outreach facilitators, health ministry leaders, and others establish and lead Writing for Wellness classes. These classes provide an extension of the community, caring, and concern received in churches. Participants learn writing techniques to help them relieve grief, forgive, address anger and frustration, and understand their relationship with God.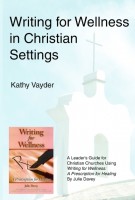 Writing for Wellness in Christian Settings
Kathy Vayder
B561
$0.00
Saddle Stitch, 40 pages
Published by Idyll Arbor
Publication date: 2010
ISBN: 9781882883905
Also consider Wellness and Writing Connection: Writing for Better Physical, Mental, and Spiritual Health, by John F. Evans: a collection of essays by keynote speakers, presenters, and workshop leaders from the 2007 and 2008 Wellness & Writing Connections conferences. Some of the essays are formal, but most of the essays are informal. All of the contributors write from the personal conviction that writing has served them and others in healthful ways.